North London Trees did this work under the instruction of the Friends of Queens Wood as part of their programme of coppice management.
Our brief was to restore the woodland flora and fauna of a dedicated area in the middle of the wood.
The area was dominated with broadleaf trees - mainly English Oaks (quercus robar) and Hornbeams (carpinus betulus). These trees had created a large canopy blocking light to ground level. The idea of the Trust was to encourage growth on the woodland floor - specifically flora species.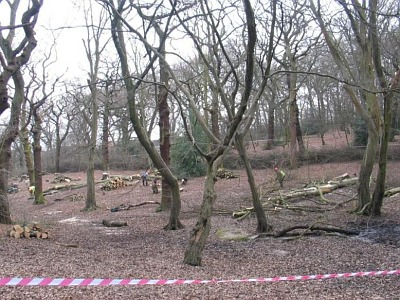 Work in Progress at Queens Wood
After applying for a felling licence from the Forestry Commission, we felled the area of semi-mature Hornbeams leaving mature Oaks and standing monoliths.
All the waste crown branches created a dead hedge around the perimeter of the area and trunks were directionally felled to reinforce the area.